Precipitation in the Cowichan Watershed in winter has historically been in the form of rain and snow. In higher mountain areas surrounding Cowichan Lake, the snowpack that builds through the winter is a reservoir of water that augments the capacity of the lake, and contributes significantly and critically to the lake in spring and summer.
Snowpack throughout the province is monitored by the River Forecast Centre of the Ministry of Lands, Forests and Natural Resource Operations. Automatic Snow Pillow Stations (ASPs) and manual inspections are both used. The River Forecast Centre describes the ASPs:
Our British Columbia snow pillows consist of 3 metre diameter bladders containing antifreeze solution. As snow accumulates on the pillow, the weight of the snow pushes an equal weight of the antifreeze solution from the pillow up a standpipe in the instrument house. This weight of the water content of the snow is termed Snow Water Equivalent (SWE). The distance the antifreeze is pushed up the standpipe is recorded by a float connected to a shaft encoder.
The Cowichan Watershed's first ASP was installed in 2015 on Heather Mountain (3B24P - Heather Mountain Upper) replacing two manual station on Heather Mtn. It joins the Jump Creek ASP in the Nanaimo Watershed, adjacent to the Cowichan on the north, which has served as a proxy for a Cowichan Watershed ASP prior to the commissioning of Heather Mtn.
This table summarizes the snowpack data in 2014, 205, and to June 2016, and compares those years to the 20 year history available for Jump Creek. The manual Heather Mtn. data was not included in this summary. Click here to decode the abbreviations in the table.
The River Forecast Centre issues reports effective to the first of each month from January to June, with additional reports on May 15 and June 15. These are available online.
The Jump Creek chart at the bottom demonstrates how much the snowpack in recent years is reduced from the long term average. The Heather Mtn. chart, immediately below, is at this time made up of very little data, and thus does not have the seasonal or historical lines which appear in the Jump Creek chart, and which are so useful for a comparison. The different scales on the two charts can also mislead so keep this in mind when comparing the two. At the peak of the 2015-2016 snow season (late March - early April), Jump Creek snowpack reached 843 mm SWE, and Heather Mtn. had almost half again as much at 1430 mm SWE.
3B24P - HEATHER MOUNTAIN UPPER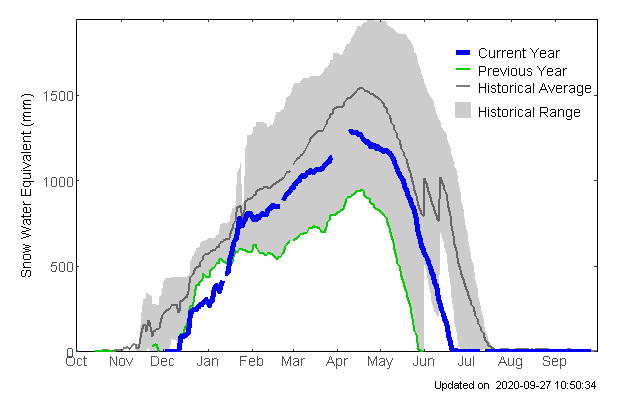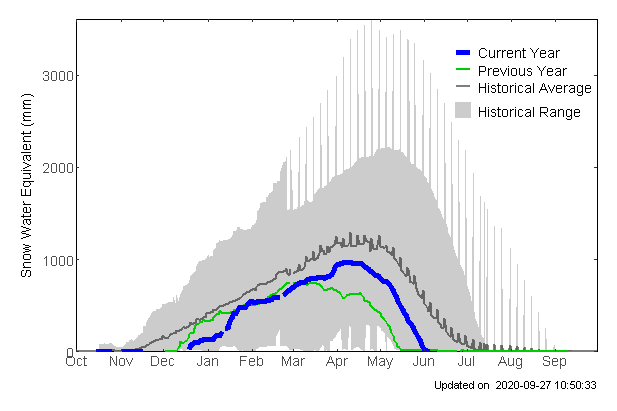 For more information
River Forecast Centre, Ministry of Forests, Lands, and Natural Resource Operations