Amy Smart, Times Colonist, May 30, 2016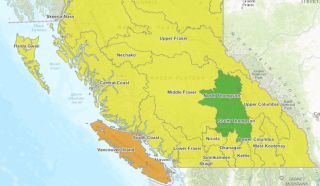 The province is urging Vancouver Islanders and Gulf Islanders to conserve water, as most rivers and streams are experiencing very low flows, although Greater Victoria's large reservoir puts the region in better shape.
Wth a "very dry" Level 3 drought declared, the province is calling for a voluntary water-use reduction of 30 per cent by all municipal, agricultural and industrial users, except those supported by reservoirs or lake storage.
The region will experience significant water supply shortages this year, unless there is substantial rainfall in June, the Ministry of Forests, Lands and Natural Resource Operations said. Vancouver Island and the Gulf Islands were the driest regions in the province Monday.
Of particular concern are the Gulf Islands and Vancouver Island in the area south of Tofino on the west coast and Campbell River on the east coast, the province said. Although last weekend's rains gave some reprieve, weather conditions are projected to remain dry this week.
Low water levels can impede passage of salmon to spawning grounds, increasing disease susceptibility, stranding fish and causing death due to low oxygen and high water temperatures. Water users are asked to screen their water intakes to prevent fish from being pulled into water systems as water levels drop.
Well owners are encouraged to prolong groundwater supplies by relying on stored water where possible, with the province predicting shallow wells connected to streams may go dry earlier than usual this year. Groundwater was recorded below normal seasonal levels at half of the province's observed wells.
Ministry staff are monitoring river levels and may upgrade the drought level if weather continues to negatively affect the water supply. Streams may be partially or completely closed to recreational fishing this summer and closure dates will be posted on the ministry's website.
Level 4 drought, the highest rating, is determined by a mix of stream flows, water storage capacity, ecological concerns, weather forecasts and impacts on water users. At Level 4, provincial water managers may temporarily suspend authorized water usage in affected watersheds and aquifers.
Last summer, Vancouver Island reached Level 3 on June 8 and Level 4 on July 3.
Water users are encouraged to observe local water conservation bylaws determined by municipalities and regional districts.
The Capital Regional District's water supply area is faring relatively well, due to a large storage capacity and rivers that aren't traditionally fed by snowpack — which has been disappearing in many areas. But staff still encourage water conservation.
"Certainly at this time of year, the CRD is encouraging all residents to reduce outdoor discretionary water use, with the goal of maximizing the amount of water in our reservoir for indoor use and fire protection," said Ted Robbins, general manager of integrated water services for the CRD said.
Sooke Lake Reservoir, which supplies water to Greater Victoria, was at 91.4 per cent capacity Monday. At this time last year, it was at 94 per cent, he said.
"That was also a year, of course, when we had a very warm and dry spring going into summer. So we're seeing very similar weather patterns this year," Robbins said.
Residential properties within the regional water supply area are at Stage 1 restrictions, which means watering of gardens and lawns can occur twice a week. Even-numbered residences are permitted to water outdoors on Wednesdays and Saturdays, while odd-numbered properties can be watered Thursdays and Sundays. Watering is permitted between 4 a.m. and 10 a.m. or 7 p.m. and 10 p.m.
Cowichan Lake, the Chemainus River and the San Juan River reached their lowest levels on record for this time of year last week, according to the Cowichan Valley Regional District.
CVRD director Jon Lefebure said stakeholders on the Cowichan River are taking measures to preserve the water in Cowichan Lake, but the only real immediate solution is rain.
"If we don't get any rain before September, we'll have zero storage. It's very serious. We're really concerned about it," Lefebure said.
Water conservation tips:
At home:
* Limit outdoor watering.
* Don't water during the heat of the day or when it's windy.
* Consider planting drought-tolerant vegetation.
* Take shorter showers.
* Don't leave the tap running.
* Install water-efficient showerheads and toilets.