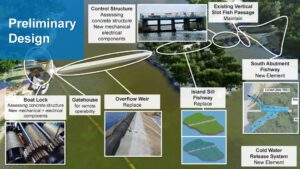 Cowichan Valley Regional District (CVRD) is welcoming the public to view the preliminary design for the new Cowichan Lake weir here.
There will also be a live online presentation of the design on December 10th followed by a question period.
Your feedback is welcome. Click the link for details.
The design is expected to be finalized by May 2021.
Also see "Leroy's Corner" for ongoing insights, common questions, and anticipated benefits from the CVRD's project manager and our Frequently Asked Questions page at Weirready.ca.