Seeking fun "Roving Reporter" team – outdoors and online this summer.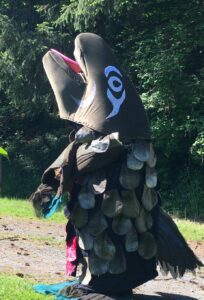 This projects aims to create fun and captivating interviews to share on social media throughout the summer with some of the excellent projects and people at work in our watersheds protecting, restoring, and studying our environments. Key messages will amplify the hul'q'umi'num teaching that Mukw' stem 'o' slhilhukw'tul (Everything is interconnected). The program will feature a 6 foot chinook mascot to amplify the spirit of restoration and reconciliation in our watersheds.
We are looking for a team of people with enthusiasm to get outdoors and capture the stories of stewardship that are seeping through our watersheds. We are advertising for two individual positions but we're open to proposals for other ways to deliver this program (e.g. theater group? youth group?). Hiring preference will be given to indigenous, youth, or CoVid19 displaced worker applicants.
All work will take place outdoors or in your own home, and will comply with BC CoVid19 safety guidelines.
Download the job posting here. Summer outreach crew 2021 job posting_fnl
Apply now. Beginning mid April.