We've all heard the advice this year to Be Kind, Be Calm, and Be Safe, but these wise words need not apply only to people. This is the first in a 3-part collaborative series honouring the Cowichan River in lieu of annual River Cleanup events. Join the authors in exploring a more complete perspective on public safety rooted in the Cowichan teaching that everything is interconnected, Mukw' stem 'o' slhilhukw'tul,
_______________________________________________________________
Be Kind.
By Ken Traynor, President of the Cowichan Lake and River Stewardship Society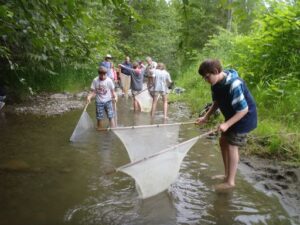 Beginning in 2009, a group of folks from the shores of Lake Cowichan and the Cowichan River, from the communities of Lake Cowichan, Honeymoon Bay, and Youbou, and others from Duncan, North Cowichan and even Victoria all got together in collaboration with Cowichan Tribes, to show their respect for our shared watershed.
It was essentially an act of kindness that created the Cowichan Lake and River Stewardship Society to care for this great Canadian Heritage River and the lake at its source.
One of the key ways this group has expressed its care for our water ecosystems has been annual August River Clean-up events in the upper and lower Cowichan River. But after 11 years of hauling tonnes of old appliances, tires, metal bits, bottles, cans, punctured tubes, needles and lots of litter out of the river, Covid-19 has shut down this year's event. However, this does not mean we have to give up on showing our kindness for the Cowichan.

How can you Be Kind? Take your lead from the many river stewards throughout the region.
If you live on the river or at the lake go out and make sure your shoreline is clean and think about whether your riparian area needs some tender loving care with new plantings to protect the shore and provide key shoreline fish habitat.
Volunteer with a work party to remove invasive species or restore riparian habitats.
Join a fry rescue group, moving salmon fry trapped in the tributaries as they dry up.
Help monitoring water quality all over the watershed.
Pack out garbage from the shores and pools of the river whenever you safely can.
If you are here to tube on the river please remember to show respect to other folks on the river and keep the noise down, lay off the drinking and pick up after yourselves.
If you come to the lake to boat please dial down your noise and speed as large boat wakes are a key source of shoreline erosion and wear and tear on docks and booms as well as undermining the enjoyment and safety of other lake users.
The allure of our beautiful Cowichan valley with its wonderful lake and river are what draws us all here but it falls to everyone to "be kind to the river" to keep it that way.
"Unless someone like you cares a whole awful lot, Nothing is going to get better. It's not." – The Lorax Dr. Seuss
[Published in Cowichan Valley Citizen, Aug. 20]