CWB Annual Report 2020 – Draft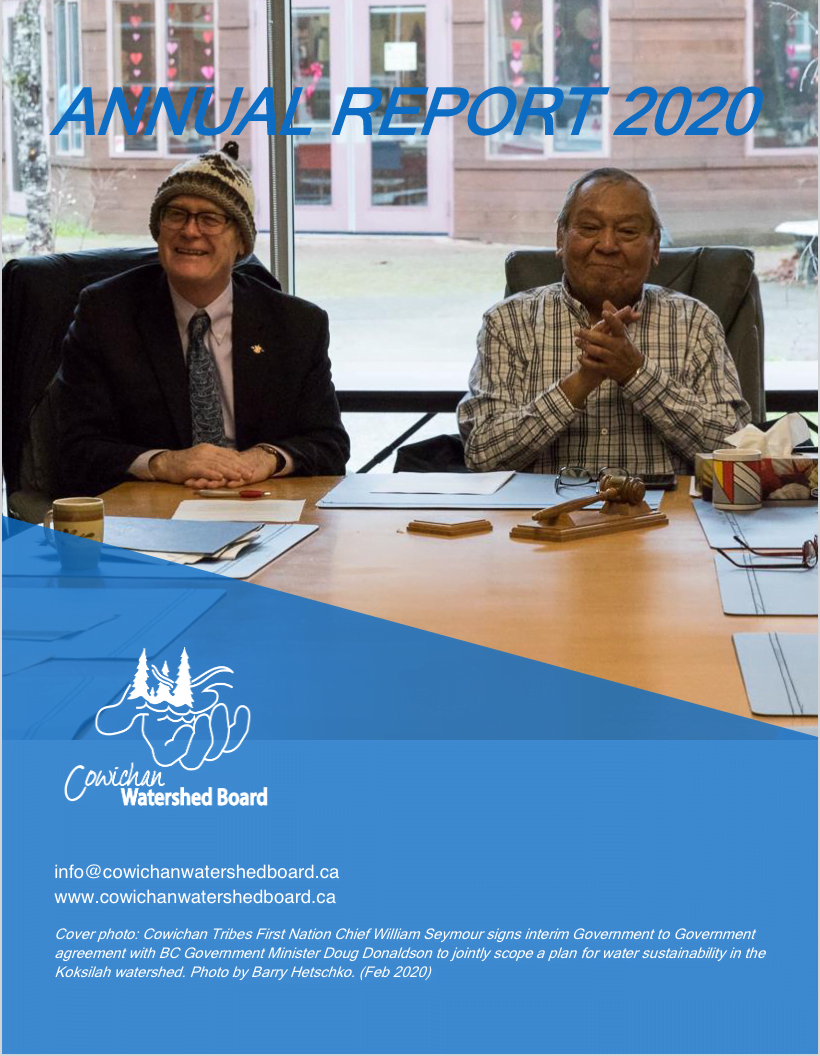 "Watershed moments" are critical turning points that define the future; times when something new and irreversible is begun. Think of a raindrop rolling down to the ocean: Raindrops rarely go back upslope. Similarly watershed moments signify progress that can't be undone.
2020 was the Cowichan Watershed Board's tenth year and a very chaotic, challenging and sometimes tragic year in many ways here and around the world. However for the long term health of this watershed and its billions of living residents forever intertwined with our human community, it was an exceptionally successful year. Things we have worked toward for a decade or more to secure a healthier future finally started rolling our way.
As you will read in the pages that follow, the Cowichan Watershed Board, with its partners and collaborators, are on track to achieve tangible improvements within the next few years. The Cowichan River weir replacement is currently being engineered, with significant funding already secured for its construction, anticipated to begin within 5 years.
A government to government process is underway in the Koksilah sub-basin to identify better water and land management practices and policies that will reduce the impacts of critically low flows there on salmon and residents (particularly agricultural producers).
Still more work is underway to understand and restore riparian habitats, improve water quality and estuarine health, reduce water use, improve public stewardship and connections to rivers, and ensure that wild salmon will continue to thrive in the Cowichan watershed for generations to come.
At a provincial and federal scale, the shift to recognize the title, rights and inherent authority of indigenous people to steward their territories is opening doors to the way the Cowichan Watershed Board has always worked, supporting and funding local collaborative governance between Cowichan Tribes and its partners.
Much work is yet to come but this 'watershed' year has given the Board reason for optimism, and we hope you will feel the same after reading our report.
With respect, Your Cowichan Watershed Board Co-chairs,
Chief William (Chip) Seymour
Cowichan Tribes First Nation
Chair Aaron Stone
Cowichan Valley Regional District
Type : Governance Document