CWB 2018 Annual Report – Final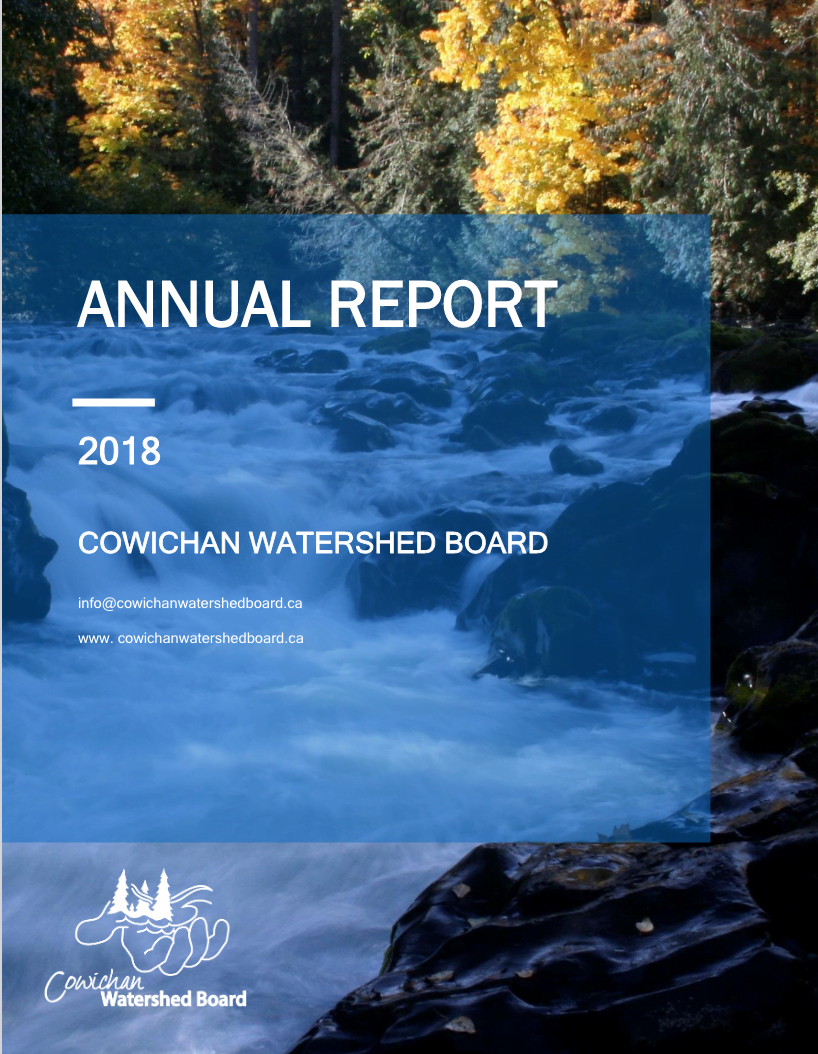 Welcome to our first ever Annual Report.

2018 marks the eighth year of the Cowichan Watershed Board (CWB) and in many ways it was a year of
maturing as an organization. The CWB was formed in 2010 as a means to cope with a crisis in our communities where salmon could only reach their spawning grounds if we trucked them there. Many of the organizations and jurisdictions tasked with responsibilities tied to the low water levels decided to stop pointing fingers and instead join hands. The beginning of the CWB was little more than a handshake agreement between those parties to work together, led by the Chief of Cowichan Tribes and the Chair of the Cowichan Valley Regional District. It has since served the watershed, the region, and Cowichan Tribes First Nation very well.

By 2017, after facing an unsuccessful bid to be the province's first community to pilot local watershed
governance under the new BC Water Sustainability Act, combined with a history of struggling for decades to address the low water flows without results, the CWB decided it was time to reflect on how we could be more effective as an organization. Supported by the BC Freshwater Legacy Initiative, a steering committee was struck that included senior personnel from Cowichan Tribes, CVRD, and the CWB, along with advisors in water governance and policy. Resources were secured to support staff time within both Cowichan Tribes and the CWB for this process, and to hire a facilitator to lead the partners through a series of workshops resulting in policy development and strengthened partnerships. (See page 11 "Organizational Health and the newly adopted core principle Nutsamatkwsyaay'ustthqa')

CWB staff have also worked to improve communication and collaboration with the provincial Ministry of
Forests, Lands, Natural Resource Operations and Rural Development on water supply issues in both the
Cowichan and Koksilah Rivers. These challenges are driven by changing climate patterns and ever increasing water demands. 2019 has only just begun and all indications are that this work is paying off with active discussion of collaborative solutions in both watersheds.

2018 also saw important progress on the Cowichan River water supply issue. The successful completion of a Cowichan River Water Use Plan (WUP) resulted in a consensus outcome on required increased water storage informed by strong science and an inclusive community based process. The CWB was an active partner on the steering committee, technical working group and Public Advisory Group, and continues communicating the strong local consensus for action to the Provincial and Federal Governments afterwards.

We hope you enjoy reading more about our work in the pages that follow.

With respect,
Your Cowichan Watershed Board Co-chairs,
Chief William Seymour, Cowichan Tribes
Chair Ian Morrison, CVRD
Type : Governance Document